Union Cemetery Cremations
Union Cemetery opened in October 1857 as the final resting place for the members of two towns, Westport and the Town of Kansas. The only public cemetery in the area until the 1870s, its hallowed ground cradles the remains of many of the area's founders and developers, as well as veterans from many of the wars in which Americans fought. These citizens were of all economic and social classes just like those who make up our great city today.
Since the 1970s, Union Cemetery has been closed to new burials, except for those who have open space within existing family plots. However, during the past 40 years, a change to burial traditions has occurred. Presently, in the Kansas City area, more than 50 percent of burial services are cremations. This change in burial service options gives Union Cemetery the opportunity to "re-open," offering a beautiful, historic, peaceful environment as a final resting place for your or your loved one's cremains.
We would be pleased to discuss your final arrangements with you.
Please contact us at your convenience.
All proceeds from niche sales will assist the UCHS in its mission to preserve and protect Union Cemetery and its records for future generations.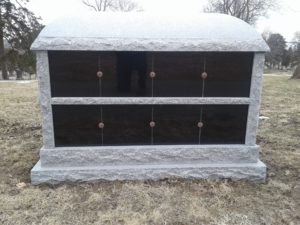 One niche with one set of cremains (includes engraving) $3,000
One niche with two sets of cremains (includes engraving) $4,000
Niche opening and closing fees*: $500 Mon-Fri
*Service provided by Signature Funerals
Please ask for information regarding special UCHS Member pricing